DENTURES
As we grow old, our body tends to given in to the wear and tear of life. Along with other ailments, our teeth also begin to crumble and break despite taking good care of them. It is then that dentists advices us to switch to dentures to replace broken, chipped or decayed teeth.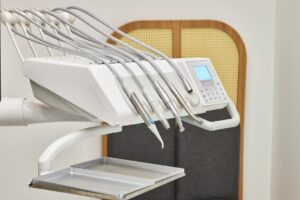 Dentures are artificial removable replacement teeth and gums that are formed to your mouth and created by your dentists to replace lost or removed natural teeth and surrounding tissues. Dentures can either be full or partial, meaning they can either replace all teeth on either the top or bottom gum line, or just a few that are missing. Regardless of what kind of dentures you may need, they will be custom designed to fit your mouth, and visually matched to your existing teeth.
In the past, the artificial teeth that make up dentures were made out of porcelain or plastic, but more modern dentures are generally made out of a hard resin. The materials used to make denture teeth are known to be more fragile than natural teeth and can easily chip or crack if dropped or otherwise uncared for. This material also wears down much quicker than natural teeth and thus must be replaced with a new set of dentures every five years or so. It is made of acrylic plastic and sometimes porcelain or metal materials. A denture closely resembles natural gum tissue and teeth, either filling in the spaces created by missing teeth or preventing other teeth from shifting position.
Dentures are one of the most common, popular and affordable options for replacing some or all of your teeth. Also known as false teeth, a denture is a prosthetic device constructed to replace missing teeth.
The supporting structure of dentures that holds the artificial teeth in place and resembles the natural gum line is often made out of a similar resin used for the teeth, or a more flexible polymer material that fits snugly on the natural gum line.
When do You Need Dentures?
When you already have missing teeth and normal activities (such as eating) become difficult. Your teeth have moved, or shifted, creating gaps between teeth. You have toothaches and/or swollen gums. You feel self-conscious about your smile.
Benefits of Dentures
The advantages of replacing your damaged, decayed or chipped teeth include:
Help keep facial muscles from sagging.
Ability to smile confidently.
You will be able to eat and speak (a thing people take for granted until they lose their natural teeth).
Brings back confidence.
Dentists at USA Dental will advise you about the most suitable options for the replacement of your damaged teeth.
Please get in touch with Dr. Yar Khan who is a Pediatric Dentist of Kidzone Dental and Orthodontics Clinic at Missouri City, TX 77459